Regular price
£1,299.00 GBP
Regular price
Sale price
£1,299.00 GBP
Unit price
per
Sale
Sold out
Upgrade your existing Tyros or Genos speaker system to our amazing Home Deluxe Speakers.
You have bought a wonderful instrument, why compromise on quality of sound? Our amazing TRX Speakers will bring the best out of your keyboard, you will be able to hear the true quality of your instrument and hear every little detail in the voices and accompaniments. One of the most satisfying things in life is hearing lovely sounds from our beautiful musical Instruments in our homes but are we really getting the best from the best?
Performance 
Many of you now own top of the range keyboards but can produce these high quality musical instrument  but unfortunately you might not be hearing a full spectrum of sound on your existing speaker system, so why is this?  Well having the right speaker system for your high quality keyboard it's just like having a top of the range Ferrari car and running it on 2 star fuel, that  car will never perform well just as you will never get a full dynamic experience out of a small home multimedia speaker pack.
Moving Air
Producing beautiful quality sound is all about moving the air to allow the sound to travel so it is very important that the speaker cones actually move and push air when you play and we don't mean playing loudly, it's all about playing it at comfortable lower volume in your own home and moving the air towards you.
 So can I buy a stage any PA speaker system for my home?
Well the answer is yes you can however it will never perform well in your home and this is why! PA systems in a home environment do not perform as well as they are designed to be turned up loudly to move the cones and project the sound across a hall or a large space, so in your home the volume will be much lower so the speaker cones won't be moving air, they will be underperforming.
3 Way Speaker System
The TRX Home Deluxe Speaker System comprises of two luxury black ash tower speakers that has been especially designed around  the luxury top end keyboards and contains a high quality 3 way speaker set in each tower being driven by a small compact digital amplifier.

The TRX Home Deluxe Speaker System actually moves air at low volumes allowing you to hear precise detail in the sound including beautiful smooth bass from the built sub speaker, warm accurate mid range speaker and a high quality Tweeter that produces a pin precise top end detail.
Hearing is believing, and that saying is so true! So why not treat yourself to A new experience and hear the difference. High quality low volume.
Share
View full details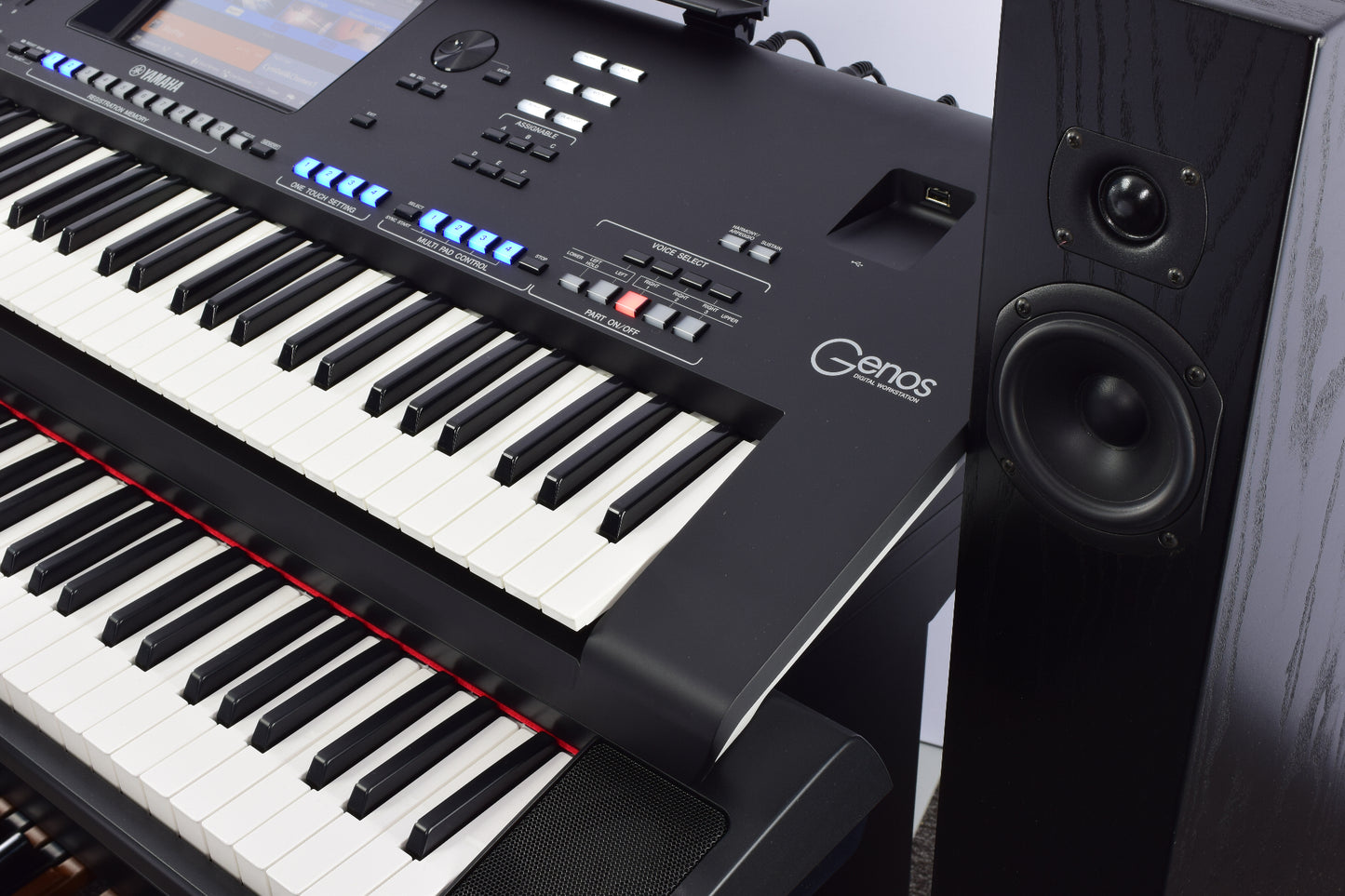 Who is play our systems
Britain's Got Talent Star Jean Martyn

After many years of playing electronic organ and her success on ITV's Britain's Got Talent, Jean now plays our TRX system so look out for Jean's live shows. It's great to have you on board Jean !! 

David Harrild

A familiar face at many UK  festivals and keyboard clubs playing the latest TRX Genos Organ System but equally enjoying being part of the Musicland TRX team creating software and product development. Why not call into our Musicland Bromley and say hello.

Rod Pooley

Rod is a brilliant musician and teacher playing the latest TRX Genos system at many organ clubs and festivals. Alongside this Rod has a very busy Jazz Funk Band called The Drawtones including many guest artists joining in the fun such as Joules Holland's Sax  players, Derek Nash and Simon Bates.

Daniel Watt

As well as performing in concert & playing for dancing at the festivals for the last few years Daniel has done a series of morning teaching sessions on the uses of "Computers in music" showing people how to create their own big arrangements. Daniel is also is the technical support specialist for Yamaha Music Europe GmbH (UK), and now tours Europe with a " TRX Genos Organ System", you will also see Daniel regularly performing at festivals & in music shops throughout the UK as part of his commitment to Yamaha. He is also a great photographer and takes many pictures used by us and other concert artists.