Regular price
£925.00 GBP
Regular price
Sale price
£925.00 GBP
Unit price
per
Sale
Sold out
The DGX-670 is a digital piano for enjoying everything from straight-ahead piano playing to playing along with other instruments. In addition to the high quality of the piano, the advanced Automatic Accompaniment Styles provide backing in a wide range of musical genres including pop, R&B, and jazz. Display sheet music to aid practice, connect to smartphones, microphones, and other equipment, and discover the many other ways to enjoy music with this feature-packed instrument.
Share
View full details
Explore
Features

Adaptive Style - Accompaniment that automatically adjusts to your playing intensity.
The DGX-670 is equipped with Adaptive Style, a function that automatically analyzes your playing in real time and arranges accompaniment to suit the mood of the music. Play with more intensity, and Adaptive Style ramps up the accompaniment; switch to a mellower mood, and the Adaptive Style mellows out along with you. The accompaniment joins you wherever you are at any given time.
Specification

DGX-670
Size/Weight
Dimensions Width 1,397 mm (55")
Height 151 mm (5-15/16")
Depth 445 mm (17-1/2")
Weight Weight 21.4 kg (47 lb, 3 oz)
Control Interface
Keyboard Number of Keys 88
Type GHS (Graded Hammer Standard) keyboard with matte black keytops
Touch Response Hard2 / Hard1 / Medium / Soft1 / Soft2
Other Controllers Pitch Bend Yes
Display Type TFT Color WQVGA LCD
Size 4.3 inch (480 × 272 dots)
Score Display Function Yes
Lyrics Display Function Yes
Text Viewer Function Yes
Language English, German, French, Spanish, Italian
Panel Language English
Voices
Tone Generation Piano Sound Yamaha CFX
VRM Yes
Key-off Samples Yes
Smooth Release Yes
Polyphony Number of Polyphony (Max.) 256
Preset Number of Voices 601 Voices + 29 Drum / SFX Kits
Featured Voices 9 VRM Voices, 49 Super Articulation Voices, 23 MegaVoices, 11 Natural! Voices, 26 Sweet! Voices, 53 Cool! Voices, 68 Live! Voices
Compatibility XG, GS, GM, GM2
Effects
Types Reverb 58 Preset + 30 User
Chorus 106 Preset + 30 User
DSP 295 Preset + 30 User
Master Compressor 5 Preset + 30 User
Master EQ 5 Preset + 30 User
Part EQ 27 Parts
Intelligent Acoustic Control (IAC) Yes
Stereophonic Optimizer Yes
Functions Dual Yes
Split Yes
Accompaniment Styles
Preset Number of Preset Styles 263
Featured Styles 215 Pro Styles, 19 Session Styles, 29 Pianist Styles
Fingering Single Finger, Fingered, Fingered On Bass, Multi Finger, AI Fingered, Full Keyboard, AI Full Keyboard, Smart Chord
Style Control INTRO, MAIN VARIATION × 4, BREAK, ENDING, SIMPLE
Custom Style Creator Yes
Other Features One Touch Setting (OTS) 4 for each Style
Adaptive Style Yes (50 Styles)
Unison & Accent Yes (50 Styles)
Compatibility Style File Format (SFF), Style File Format GE (SFF GE)
Songs
Preset Number of Preset Songs 100
Recording Number of Tracks 16
Data Capacity Approx. 1 MB / Song
Compatible Data Format Playback SMF (Format 0, Format 1), XF
Recording SMF (Format 0)
Functions
Audio Recorder/Player Recording Time (max.) 80 minutes / Song
USB Audio Recorder Playback WAV (44.1 kHz, 16-bit, stereo)
Recording WAV (44.1 kHz, 16-bit, stereo)
USB Audio Vocal Cancel Yes
Pitch Shift Yes
Time Stretch Yes
Miscellaneous Piano Room Yes
Registration Number of Buttons 4
Control Registration Sequence, Freeze
Playlist Number of Records 500
Lesson/Guide Lesson/Guide Follow Lights, Any Key, Karao-Key, Your Tempo
Overall Controls Metronome Yes
Tempo Range 5 – 500, Tap Tempo
Transpose -12 – 0 – +12
Tuning 414.8 – 440.0 – 466.8 Hz (approx. 0.2 Hz increments)
Scale Type 9 Types
USB audio interface 44.1 kHz, 16-bit, stereo
Bluetooth Yes (Audio)
Storage and Connectivity
Storage Internal Memory Approx. 20 MB
External Drives USB flash drive
Connectivity DC IN 16 V
Headphones Standard stereo phone jack
Microphone Standard mono phone jack
AUX IN Yes (Stereo mini jack)
AUX Pedal Yes
Pedal Unit Yes
USB TO DEVICE Yes
USB TO HOST Yes
Amplifiers and Speakers
Amplifiers 6W x 2
Speakers 12 cm x 2 + 5 cm x 2
Power Supply
AC Adaptor PA-300C
Power Consumption 14.5 W (When using PA-300C AC adaptor)
Auto Power Off Yes
Accessories
Accessories Owner's Manual, Online Member Product Registration, AC adaptor* (PA-300C), Power cord*, Music rest, Footswitch *May not be included depending on your area. Check with your Yamaha dealer.
Separately Sold Accessories Keyboard stand (L-300B / L-300WH), Pedal unit (LP-1B / LP-1WH), AC adaptor (PA-300C), Headphones (HPH-150 / HPH-100 / HPH-50), Foot pedal (FC3A), Footswitch(FC4A / FC5), USB wireless LAN adaptor (UD-WL01), Wireless MIDI adaptor (UD-BT01)
630 high-quality instrument Voices
Equipped with 630 varied, high-quality Voices including stunning pianos, electric pianos, organs, brass, strings, percussion, and more. From breathy saxophones to ringing guitars and warm, resonant strings, the DGX-670 impressively replicates sounds down to the finest nuances. Thanks to acclaimed Super Articulation technology, the distinctive characteristics of each instrument are reproduced in incredible detail as you play.
FEATURES
High piano quality

Only Yamaha can offer the elite quality of the DGX-670 piano Voices. From tonal variation that responds to the player's touch to the sympathetic resonance of grand pianos, the impressive sound represents an authentic piano-playing experience only an acoustic piano manufacturer can deliver.

Other Features

Everything you need to enjoy music is packed into this single instrument. Practice, sing, record, and learn more ways to enjoy piano playing with the limitless possibilities of the DGX-670.

- Bluetooth Audio

- Compatible with Chord Tracker (Yamaha app)

- Mic input

- USB Audio Play & Recording

- Score display for lesson

- Optional stand and pedal

Jam with the band packed into the DGX-670

The DGX-670 offers a wide range of Voices in addition to the piano, from 630 realistic-sounding instruments including electric pianos, organs, and strings, to catchy synthesized sounds.

The advanced Automatic Accompaniment Styles make it possible to jam with any number of other "musicians," from a combo to a big band. There are 263 accompaniment Styles including rock, R&B, and dance. Enjoy an experience that feels just like playing a live session in a band.

Virtual Resonance Modeling (VRM)

This phenomena is reproduced perfectly in the DGX-670 through Virtual Resonance Modeling (VRM) which calculates the various states of the strings for each of the 88 notes on the keyboard from one instant to the next. As a result, the DGX-670 reflects the limitless number of factors inherent in playing an acoustic piano such as which keys are pressed, the strength with which the keys are played and pedal timing.

Customize your piano playing experience

Simple and intuitive controls let you choose from different piano and instrument Voices.

Try the acoustics in a rehearsal room, on a stage, in a cathedral, and other venues, and experiment with how far to open the grand piano lid to gain a feel for the subtle differences in sound.

Authentic piano touch, 88-note weighted GHS keyboard

The Yamaha Graded Hammer Standard (GHS) keyboard features a weighted action with heavier touch in the low end and lighter touch in the high end, just like the hammers inside an acoustic piano. Great for the aspiring pianist, practicing on the GHS action builds the proper finger technique and strength for when the time comes to perform on an acoustic piano.
Powerful speaker system
The two-way system features round 12-cm speakers for impressive mid and bass, and a tweeter for dazzling treble. The piano sound is designed to feel immersive from the bench, and the accompaniment is optimized for impact.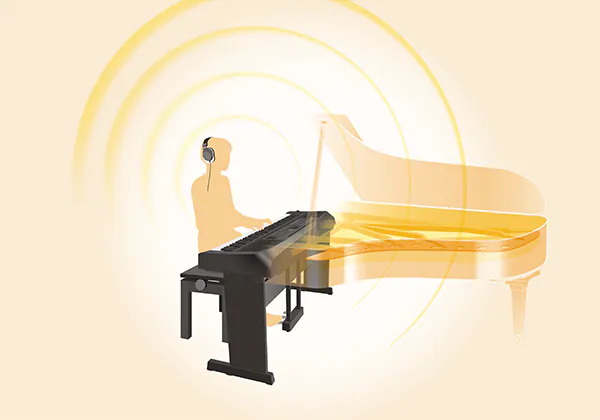 The Stereophonic Optimizer—a new kind of headphone experience
When using headphones, the Stereophonic Optimizer lets players enjoy the dispersed sound heard when sitting in front of an acoustic piano. With the Stereophonic Optimizer, Voices sampled from acoustic pianos appear to come from the body of the instrument. This provides a comfortable, natural experience that removes the drawbacks of performing with headphones.
Apps
Chord Tracker

Have you ever tried to figure out what the chords are to your favorite songs? Yamaha's new Chord Tracker app does the hard work for you, and much more! The Yamaha Chord Tracker app helps you practice and perform songs by analyzing the audio song stored in your smart device and then displays the chord symbols for you.

Visual Performer

Visual Performer is a new type of application that allows you to graphically visualize your musical performance by connecting keyboards, drums or other musical instruments to their device. The selected graphic animation plays and changes in time with the pitch and intensity of the performance. You can enliven their stage performances by expressing themselves, musically and visually.

FREE 3 Months Flowkey

flowkey is one of the world's most popular apps for learning to play the piano. Even beginners can learn to play a wide array of songs on their acoustic piano, digital piano or keyboard in next to no time. The flowkey piano app is the ideal companion for those starting to learn the piano.