Regular price
£4,989.00 GBP
Regular price
Sale price
£4,989.00 GBP
Unit price
per
Sale
Sold out
This flagship model of the Clavinova CSP-200 Series is an upright-styled digital piano, with unique Stream Lights for playing fun and learning ease. It includes a realistically expressive 88-key GrandTouch™ counterweighted keyboard, as well as Yamaha CFX and Bösendorfer Imperial grand piano sounds. Moreover, the free Yamaha Smart Pianist app provides intuitive operation of the instrument.
Stream Lights
Yamaha CFX and Bösendorfer Imperial piano samples, Yamaha CFX and Bösendorfer binaural sampling
919 Voices, 403 Songs and 525 Styles
Audio to Score
Virtual Resonance Modeling (VRM)
Grand Expression Modeling
GrandTouch™ keyboard with counterweights, 88-key Linear Graded Hammers
GP Response Damper Pedal
(50 W + 50 W + 40 W) x 2 amplifiers
Grand Acoustic Imaging
(16 cm + 8 cm + 2.5 cm (dome) with Bidirectional Horn) × 2 speaker system, Spruce Cone Speaker
Microphone connection
Multi-track MIDI recording (SMF format 0)
Audio Player/Recorder (File format: WAV, AAC)
Built-in Bluetooth® audio
Wireless connection to the Smart Pianist app via Bluetooth® MIDI
*Please Note: 0% Finance is not available on this product"
Share
View full details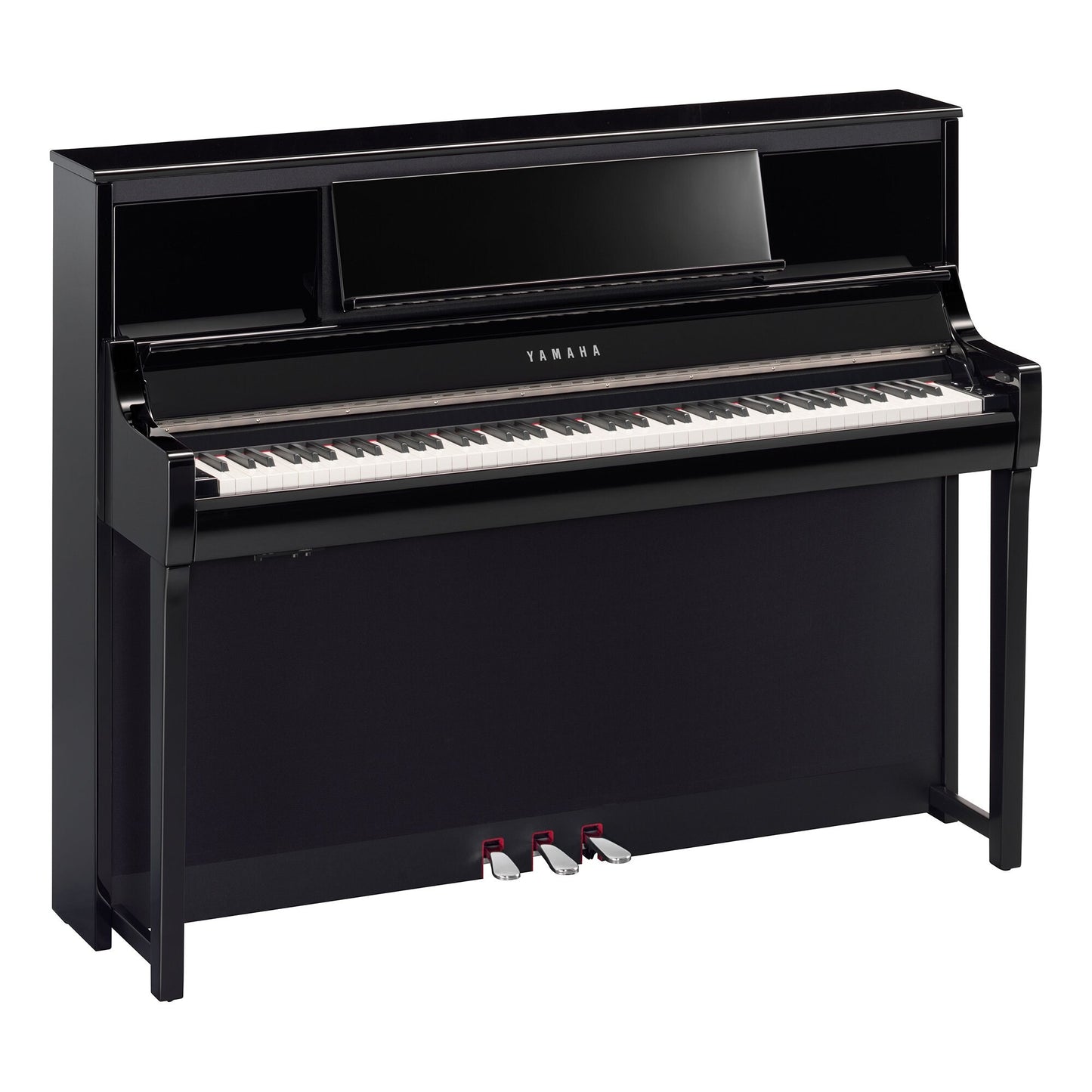 Explore
Features

THE EXCELLENCE OF THE CSP-200 SERIES
The Clavinova CSP-200 Series digital pianos allow even beginners to easily play their favorite songs. It features unique Stream Lights, which guide you to the keys to play next, and a Smart Pianist app that lets you enjoy the instrument with your smart device. With an authentic playing feel and rich tonal quality like that of a grand piano, it offers profound playing joy.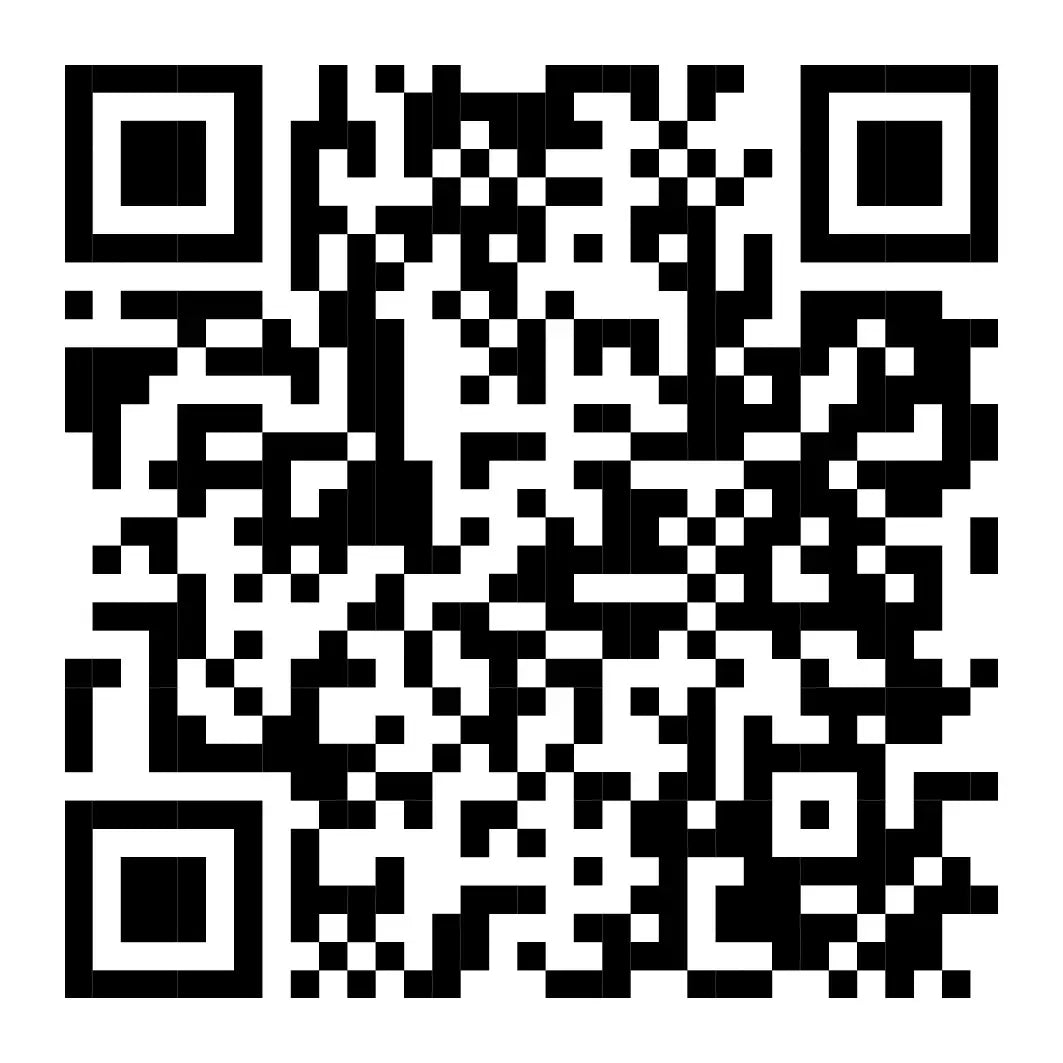 £200 Gift Coupon
To celebrate the 40th anniversary together, and to support you on your musical journey during this Christmas season, we would like to present you a gift coupon of £200 for the purchase of your new Clavinova!How to claim your gift coupon?
Scan QR code above or visit  https://hub.europe.yamaha.com/40-years-clavinova
Create a Yamaha Music ID.
Go to your mailbox, click on the link and receive a 5-digit code.
Show this code in Bromley or Romford store and receive a £200 discount.
INTUITIVE OPERATION WITH YAMAHA'S SMART PIANIST APP
The Yamaha Smart Pianist app gives you complete, detailed control over the instrument from your smart device. This intuitive app makes it easy to select the desired Voice from a variety of instrument sounds, and even switch between different virtual performance spaces and their acoustic environment (for example, a concert hall or cathedral).
*The app is available at the App Store and Google Play.
STREAM LIGHTS ILLUMINATE THE KEYS TO PLAY NEXT, MAKING MUSIC EVEN MORE FUN
Even if you can't read music, Stream Lights—used with the interactive scores shown in the Smart Pianist app—guide you to the keys to play next, making your practice more enjoyable.  You can also set the function for the left or right hand only, or slow the tempo at the hard parts to help you practice. There is even a Guide function that pauses the song until you play the correct keys.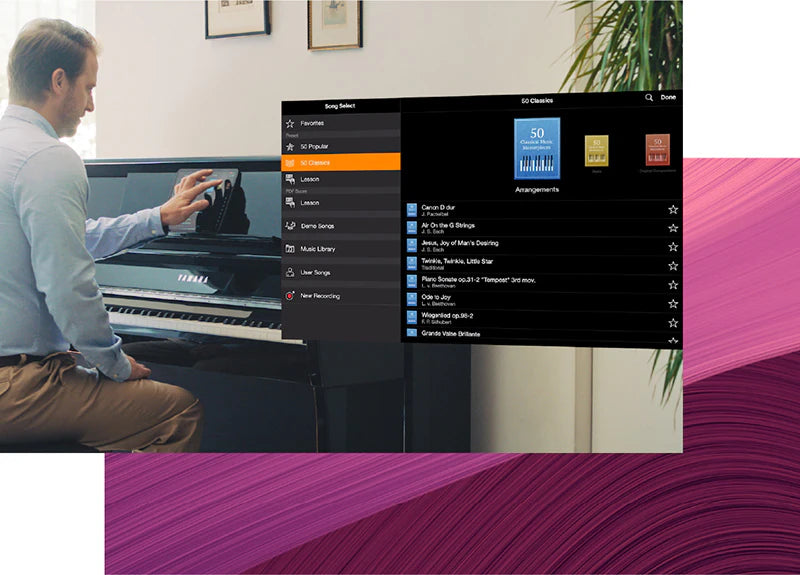 PRACTICE YOUR FAVORITES FROM AMONG THE EXTENSIVE LINEUP OF PRESET SONGS
The Clavinova CSP-200 Series features an ample selection of preset songs, from well-known popular and classical tunes to practice exercises. View the sheet music on Yamaha's Smart Pianist app, and use Stream Lights to guide your practice sessions. Moreover, you can add new songs to your collection on the app.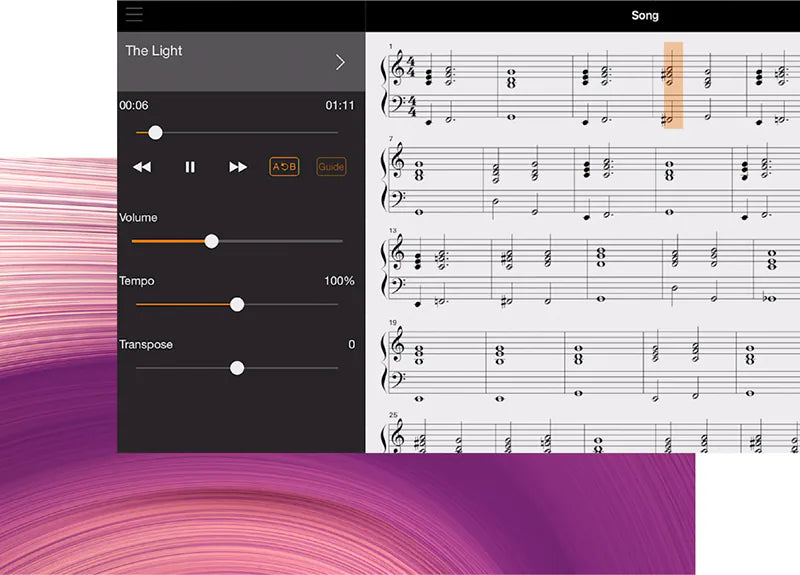 AUDIO TO SCORE LETS YOU TRY YOUR HAND AT THE TUNES YOU WANT RIGHT AWAY
When you want to play a song, but don't know where to begin or what to do, just use the Audio to Score feature included in Yamaha's Smart Pianist app. The app analyzes MP3s and other audio song data and creates chord charts with over 50 varieties of accompaniment to suit your playing level. All you have to do is follow the Stream Lights.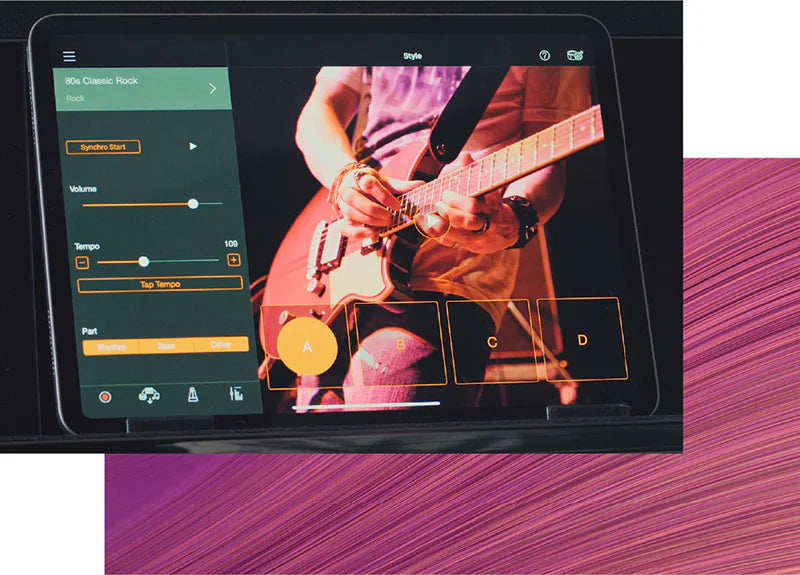 ADD VARIETY TO YOUR PERFORMANCE WITH VOICES AND BACKING STYLES
The Clavinova CSP-200 Series offers unrivaled capacity for musical expression, with a huge variety of instrument voices that belie their simple, elegant exteriors.
Featuring a wide array of backing Styles, the CSP Series allows you to enjoy great-sounding performances with authentic accompaniment that will enhance your playing across a diverse range of musical genres.
SOUND QUALITY
YAMAHA CFX AND BÖSENDORFER IMPERIAL VOICES

Clavinova grand piano sounds are recorded from several world-renowned concert grand pianos. One of them is the CFX, Yamaha's top-flight concert grand piano. Pianists around the world are enamored with the impressive, dazzling, richly expressive sound of the CFX in concert halls. Another sampled concert grand is the Imperial, the flagship model of Bösendorfer, a time-honored Viennese piano brand with an ardent following. The Imperial is known for its abundance of color and natural, warm feeling. Yamaha faithfully reproduces the idiosyncrasies of these concert grand pianos by carefully recording the entire tonal range of each of the 88 keys, making minute adjustments to capture the most harmonious tones each piano has to offer.

VIRTUAL RESONANCE MODELING

One of the allures of the grand piano is the sympathetic resonance created by the vibration of the entire instrument. Clavinova pianos elaborately reproduce this rich sympathetic resonance through a groundbreaking technology called Virtual Resonance Modeling (VRM). VRM creates a richly varied sound by simulating the complex sympathetic tones created when the vibrations of the strings are propagated to the soundboard and other strings, corresponding to the timing and intensity of key playing and pedaling. CSP-200 Series pianos even replicate the sounds the dampers make when they are raised off the strings, in addition to the resonance of the duplex scaling, strings, soundboard, and case. Clavinova pianos allow you to enjoy the same momentary dynamics and deep sympathetic sounds that are produced by the entire body of a grand piano.

BINAURAL SAMPLING FOR AUTHENTIC PIANO SOUND, EVEN WITH HEADPHONES

Binaural sampling is a method of sampling in which special microphones are placed on a mannequin's head in the same positions as the pianist's ears to capture piano sounds the way that they sound in reality.

We chose this method to create the ambience and full, natural resonance of acoustic pianos in Clavinova pianos. This makes pianists feel as though they are sitting at a grand piano even when they play with headphones on. The experience is so pleasant that they forget they are wearing headphones, no matter how long they continue to play.

On CSP-200 Series pianos, binaural sampling was used for the Bösendorfer Imperial as well as the Yamaha CFX. Yamaha achieves higher-definition binaural sound with a specially developed mannequin head and model ears used for the recording.

GRAND ACOUSTIC IMAGING

When a pianist plays a grand piano, they cause the entire body of the instrument to reverberate, and become enveloped in the colorful tones created from the combination of various acoustic elements in the air around them. The pianist becomes immersed in the diffusing sound and reverberation. The CSP-295 delivers this pleasant feeling through Grand Acoustic Imaging. The latest acoustic design and measuring technology create the same sound image and sound field of a grand piano despite the compact size of the digital piano. We optimally balanced and placed the bass, mid, and treble speakers to achieve the sound radiation and centroid characteristic of grand pianos so that each and every tone played through the speakers sounds like it was emitted from the proper place on an actual grand piano.
3-WAY SPEAKERS WITH BI-DIRECTIONAL HORNS

This powerful 3-way system features mid and treble units, as well as bass speakers, which are available only on the CSP-295—and all units are optimally balanced and placed accordingly in the body to simulate the sound image of a grand piano. Additionally bidirectional horns deliver an abundance of sound, creating a natural sound field akin to the resonance from a grand piano soundboard. And since all speakers are hidden inside the cabinet, the piano-like appearance and sound are perfectly elegant.

SPRUCE CONE SPEAKER

Drawing from our experience in building both acoustic pianos and high-end speakers, the CSP-295 speaker cones use pulp from the same spruce wood used to make acoustic piano sound boards. The result is a more natural, piano-like attack to the sound that is more piano-like when you play the keys.
PLAYABILITY
GRANDTOUCH™ KEYBOARD

Yamaha's latest keyboard action features a broad dynamic range and faithful response to every nuance of touch that puts a wide expanse of tone—from delicate to bold—at the pianist's fingertips. The highly consistent grand piano hammers replicate the pleasing response felt when the hammers strike the strings, enabling precise control of the tone. Highly absorbent synthetic-ivory white keys and synthetic-ebony black keys prevent slipping even during extended play and feel just like those of a grand piano.

GrandTouch™ keyboard features wooden keys that showcase Yamaha's expertise with wood for pianos. Just as with grand piano keyboards, the solid wood is cut from the very best parts of well-dried lumber, making the keys more resistant to warping than keyboards made of laminated wood. The wooden texture and structure of the keys create a more grand piano-like feel.

LEVERAGE ARTISTIC EXPRESSION

When playing a digital piano, the back area of the keys may prove to be a challenge to full musical expression. This is because the back of the key is closest to the fulcrum of the action. The closer to this pivot point that you strike the key, the less leverage you have and the more strength you need to apply. The greater length of GrandTouch™ keys give the player more leverage, allowing for better expressive control, even at the backs of the keys. This is the same support length found on the Yamaha S3X premium grand piano*, and is the longest support length used on any digital piano.

*As of July 2023

88-KEY LINEAR GRADED HAMMERS

Every single key on a grand piano keyboard is weighted differently. This is because the strings for each note are slightly thinner and shorter in the treble register, becoming thicker and longer towards the bass register. The 88-key Linear Graded Hammers of the Clavinova is the first-of-its-kind to faithfully duplicate this graded touch with differing weights and key return on each one of its keys. This results in a feel and response that is astonishingly like that of a grand piano, and allows players to gain an appreciation of a more authentic touch.
KEY COUNTERWEIGHTS

Counterweights are embedded in the keys of a grand piano to balance the weight of the hammers and offer more precise control when playing delicately at low volumes. The Clavinova features carefully adjusted counterweights for improved playability when playing pianissimo with a light touch, and better key return in rapid passages. The keyboard of the Clavinova has been fine-tuned to offer optimal balance, emphasizing its superb playability and grand piano response.

THE GP RESPONSE DAMPER PEDAL

Using the damper pedal subtly alters the nature of a piano's sound and is essential to providing the pianist with all the necessary expressive tools to convey their musical vision.

Clavinova digital pianos feature a damper pedal that continually detects depression depth and allows halfpedaling, which lets players make minute adjustments to pedal depression and return, changing the depth and character of their piano sound.

The GP Response Damper Pedal offers a grand piano-style resistance curve, starting out light to the touch and growing heavier as the pedal is depressed further. This allows players to become accustomed to the nuances of delicate pedaling.

DESIGN PHILOSOPHY

Clavinova pianos boast excellent playability and versatile functions, along with a refined, authentic design that blends a compact form with modern aesthetics in a manner befitting the instrument that sets the contemporary standard for pianos. At the heart of the Clavinova design concept is the way the player feels when they take their seat in front of a Clavinova piano. Unnecessary elements are removed from the player's field of vision to create a convincingly natural space that feels just like sitting at an acoustic piano. A Clavinova piano is a part of the player's everyday life—contemporary accents and color variation are available to mesh with any interior design or lifestyle. The CSP-295 has an elegant design that has both the appearance and feel of an acoustic piano, featuring a rotating lid with a music stand, and the absolute minimum set of controls.
Smart Pianist

With the Smart Pianist app as the perfect companion at your side, you can select and adjust a wide variety of functions, from sound and tuning adjustments to piano models and acoustic settings. Smart Pianist also analyses the songs in your mobile device's music library so you can play along to your favourite tunes.

5-YEAR GUARANTEE

More than a promise! Register your Clavinova premium digital piano within six months of the purchase date and receive a free five-year extended warranty.

PREMIUM SERVICE

Yamaha places the highest value on quality, reliability, and customer service. Enjoy even more convenience by booking our Yamaha Premium Service as an optional extra¹ and let our carefully selected partners deliver and set up your new Yamaha Clavinova digital piano.

FREE 3 Months Flowkey

flowkey is one of the world's most popular apps for learning to play the piano. Even beginners can learn to play a wide array of songs on their acoustic piano, digital piano or keyboard in next to no time. The flowkey piano app is the ideal companion for those starting to learn the piano.