Regular price
£7,749.00 GBP
Regular price
£9,689.00 GBP
Sale price
£7,749.00 GBP
Unit price
per
Sale
Sold out
Special price on our showroom display piano only.
The flagship model of the CVP Series, with the expressiveness of a grand piano, and hundreds of other instrument voices also available.
CFX and Bösendorfer Imperial piano samplings, CFX Binaural sampling
GrandTouch™ Keyboard with Counterweights, 88-key Linear Graded Hammers
GP Response Damper Pedal
1,605 Voices + 58 Drum/SFX Kits + 480 XG Voices
675 Styles
(40W + 30W + 20W) x 2 + 80W
(16cm + 5cm + 2.5cm (dome)) x 2 + 20cm speaker system, Spruce Cone Speaker, Twisted Flare Port
TFT color LCD (touch screen), 9.0 inch 800 x 480 dots
Built-in Bluetooth® audio
iOS app "Smart Pianist" integration (Song function only)
*Please Note: 0% Finance is not available on this product"
Share
View full details
Explore
Features

Two world class concert grands in one digital piano
The Yamaha CFX, our flagship 9' concert grand piano, offers sparkling highs and a powerful resonant bass with a sound that projects to the furthest reaches of any concert hall. The Bösendorfer Imperial is a piano known throughout its long history for its classic Viennese sound. Both are outstanding pianos characterized by distinctive traits of power, versatility, subtlety and lightness. Both are found only in a Clavinova digital piano.


VRM physical modeling—the distinctive reverberation generated by the entire body of a concert grand piano
In a grand piano, sound resonates throughout the body of the instrument, producing a rich reverberation that envelops the listener in sound. This phenomena is reproduced perfectly in the Clavinova through Virtual Resonance Modeling (VRM). It calculates the various states of the strings for each of the 88 notes on the keyboard, from one instant to the next, and timing and depth of damper pedals pressed. This technology allows for vivid, bright, richly-varied expression that reflects the limitless number of factors inherent in piano performance.


From staccato to legato—superbly expressive sound that responds to the player's touch
Featuring Yamaha Smooth Release technology, Clavinova offers the crisp tone heard when playing staccato as well as the lingering sound produced by releasing the keys more. This provides finely-nuanced response to the pianist's playing.


Smooth tonal transformations perfectly matched to key pressure
Sound in an acoustic piano attenuates over a long time. Pianists can change the volume of the sound—as well as its dynamics—to achieve both mellow and bright tones by simply changing the pressure they apply to the keys.

The Clavinova features long, carefully-sampled recordings of notes on a piano, reproduces them in rich detail and utilizes unique Yamaha technologies to achieve smooth tonal transitions in response to the touch of the player.

Additionally, the Clavinova has been repeatedly tested and adjusted by numerous pianists in order to attain a performance feel similar to that of a grand piano.

Key-Off samples
The moment a pianist's fingers are lifted from the keys of a grand piano, subtle changes occur in the instrument's tone as the damper is lowered onto the strings to mute its sound. Key-Off samples features actual recordings of these changes, offering a faithful reproduction of the most subtle changes in the piano's sound, allowing for a more realistic performance.


A fully immersive concert grand experience—even with headphones
Yamaha's advanced binaural sampling technology uses samples from the CFX, Yamaha's acclaimed concert grand piano, recorded with specialized microphones that capture locational information and other nuances discerned by the human ear. The resulting sound is so natural, so enveloping, that you'll soon forget you're even wearing headphones at all.

Once you choose the Yamaha CFX Grand Voice and put headphones on, the binaural sampled sound is automatically ready and no additional settings are required. Now with or without headphones, you can fully enjoy the concert grand experience at home.


The Stereophonic Optimizer—a new kind of headphone experience
When using headphones, the Stereophonic Optimizer lets players enjoy the dispersed sound heard when sitting in front of an acoustic piano. With the Stereophonic Optimizer, Voices sampled from acoustic pianos* appear to come from the body of the instrument. This provides a comfortable, natural experience that removes the drawbacks of performing with headphones.

* The CFX Voice utilizes binaural sampling technology
Specification

Size/WeightDimensionsWidthHeightDepthWeightWeightPacking BoxWidthHeightDepthControl InterfaceKeyboardNumber of KeysTypeTouch Sensitivity88-key Linear Graded HammersCounterweightPedalNumber of PedalsHalf PedalFunctionsGP Response Damper PedalDisplayTypeSizeLCD BrightnessTouch ScreenColorScore Display FunctionLyrics Display FunctionText Viewer FunctionLanguagePanelLanguageCabinetKey CoverKey Cover StyleMusic RestMusic ClipsVoicesTone GenerationPiano SoundBinaural SamplingKey-off SamplesSmooth ReleaseVirtual Resonance Modeling (VRM)PolyphonyNumber of Polyphony (Max.)PresetNumber of VoicesFeatured VoicesCustomVoice EditCompatibilityEffectsTypesReverbChorusMaster CompressorMaster EQPart EQIntelligent Acoustic Control (IAC)Stereophonic OptimizerInsertion EffectVariation EffectVocal HarmonyFunctionsDual/LayersSplitAccompaniment StylesPresetNumber of Preset StylesFingeringStyle ControlCustomStyle CreatorOther FeaturesMusic FinderOne Touch Setting (OTS)Style RecommenderChord LooperFile FormatSongsPresetNumber of Preset SongsRecordingNumber of TracksData CapacityRecording FunctionCompatible Data FormatPlaybackRecordingFunctionsDemoRegistrationNumber of ButtonsControlPlaylistNumber of RecordsLesson/GuideLesson/GuideGuide LampPerformance Assistant Technology (PAT)Piano RoomUSB Audio RecorderPlaybackRecordingUSB AudioTime StretchPitch ShiftVocal CancelMiscellaneousMetronomeTempo RangeTransposeTuningScale TypeDisplay OutBluetoothStorage and ConnectivityStorageInternal MemoryExternal DrivesConnectivityHeadphonesMicrophoneMIDIAUX INAUX OUTAUX PedalUSB TO DEVICEUSB TO HOSTAmplifiers and SpeakersAmplifiersSpeakersPower SupplyPower ConsumptionAccessoriesAccessories
CVP-805
Size/Weight
Dimensions Width 1,420 mm (55-15/16") (Polished finish: 1,423 mm (56-0"))
Height 868 mm (34-3/16") (Polished finish: 871 mm (34-5/16"))
Depth 592 mm (23-5/16") (Polished finish: 593 mm (23-3/8"))
Weight Weight 80 kg (176 lb, 6 oz) (Polished finish: 84 kg (185 lb, 3 oz))
Packing Box Width 1,551 mm (61-1/16")
Height 708 mm (27-7/8")
Depth 736 mm (29")
Control Interface
Keyboard Number of Keys 88
Type GrandTouch™ Keyboard: wooden keys (white only), synthetic ebony and ivory key tops, escapement
Touch Sensitivity Hard2, Hard1, Medium, Soft1, Soft2
88-key Linear Graded Hammers Yes
Counterweight -
Pedal Number of Pedals 3
Half Pedal Yes
Functions Sustain, Sostenuto, Soft, Glide, Song Play/Pause, Style Start/Stop, Volume, etc.
GP Response Damper Pedal -
Display Type TFT Color LCD
Size 7.0 inch (800 x 480 dots)
LCD Brightness Yes
Touch Screen Yes
Color Yes
Score Display Function Yes
Lyrics Display Function Yes
Text Viewer Function Yes
Language English, Japanese, German, French, Spanish, Italian
Panel Language English only
Cabinet
Key Cover Key Cover Style Folding
Music Rest Yes
Music Clips Yes
Voices
Tone Generation Piano Sound Yamaha CFX, Bösendorfer Imperial
Binaural Sampling Yes (CFX Grand Voice only)
Key-off Samples Yes
Smooth Release Yes
Virtual Resonance Modeling (VRM) Yes
Polyphony Number of Polyphony (Max.) 256
Preset Number of Voices 1,315 Voices + 49 Drum/SFX Kits + 480 XG Voices
Featured Voices 14 VRM Voices, 227 Super Articulation Voices
Custom Voice Edit Yes
Compatibility XG, GS (for Song playback), GM, GM2
Effects
Types Reverb 65 Preset + 30 User
Chorus 106 Preset + 30 User
Master Compressor 5 Preset + 30 User
Master EQ 5 Preset + 30 User
Part EQ 27 Parts
Intelligent Acoustic Control (IAC) Yes
Stereophonic Optimizer Yes
Insertion Effect 322 Preset + 30 User
Variation Effect 322 Preset + 30 User
Vocal Harmony 54 Preset + 60 User
Functions Dual/Layers Yes
Split Yes
Accompaniment Styles
Preset Number of Preset Styles 525
Fingering Single Finger, Fingered, Fingered On Bass, Multi Finger, AI Fingered, Full Keyboard, AI Full Keyboard
Style Control INTRO x 3, MAIN VARIATION x 4, FILL x 4, BREAK, ENDING x 3
Custom Style Creator Yes
Other Features Music Finder -
One Touch Setting (OTS) 4 for each Style
Style Recommender -
Chord Looper Yes
File Format Style File Format (SFF), Style File Format GE (SFF GE)
Songs
Preset Number of Preset Songs 50 Classics + 303 Lesson Songs + 50 Popular
Recording Number of Tracks 16
Data Capacity approx. 3 MB / Song
Recording Function Yes
Compatible Data Format Playback SMF (Format 0 & 1), XF
Recording SMF (Format 0)
Functions
Demo Yes
Registration Number of Buttons 8
Control Registration Sequence, Freeze
Playlist Number of Records 2,500 Records
Lesson/Guide Lesson/Guide Follow Lights, Any Key, Karao-Key, Your Tempo
Guide Lamp Yes
Performance Assistant Technology (PAT) Yes
Piano Room Yes
USB Audio Recorder Playback WAV (44.1kHz, 16bit, stereo), MP3 (MPEG-1 Audio Layer-3)
Recording WAV (44.1kHz, 16bit, stereo), MP3 (MPEG-1 Audio Layer-3)
USB Audio Time Stretch Yes
Pitch Shift Yes
Vocal Cancel Yes
Miscellaneous Metronome Yes
Tempo Range 5 - 500, Tap Tempo
Transpose -12 - 0 - +12
Tuning 414.8 - 440 - 466.8 Hz (approx. 0.2 Hz increments)
Scale Type 9
Display Out Yes* (by using a commercially available USB display adaptor**)
Bluetooth Yes (Audio)
Storage and Connectivity
Storage Internal Memory approx. 2 GB
External Drives USB Flash Drive
Connectivity Headphones Standard stereo phone jack (x2)
Microphone Input Volume, Mic / Line In
MIDI IN / OUT / THRU
AUX IN Stereo mini
AUX OUT L / L + R, R
AUX Pedal Yes
USB TO DEVICE Yes (x 2)
USB TO HOST Yes
Amplifiers and Speakers
Amplifiers (45 W + 20 W) x 2
Speakers (16 cm + 2.5 cm (dome)) x 2
Power Supply
Power Consumption Power consumption is described on or near the name plate, which is at the bottom of the unit.
Accessories
Accessories Headphones (HPH-150/HPH-100/HPH-50), Footswitches (FC4A/FC5), Foot controller (FC7), USB wireless LAN adaptor (UD-WL01), Wireless MIDI adaptor (MD-BT01/UD-BT01)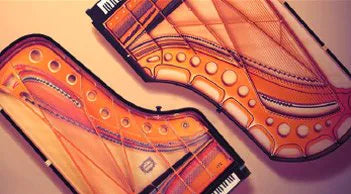 VOICE
Alongside two of the world's finest grand pianos – Yamaha's CFX and the Bösendorfer Imperial – CVP-900 Series pianos also include an incredible selection of instrumental Voices, from breathy saxophones to dynamic guitars and warm, resonant strings.
SONG
Sing, compose and explore – the creative possibilities are endless! Connect a microphone and sing - CVP pianos provide harmonic backing. You can even use the many advanced recording functions to compose and create your own original tracks.
STYLE
Featuring a wide array of backing Styles, CVP-900 Series delivers incredible performances with polished introductions and endings. Thanks to authentic accompaniments, Yamaha CVP can enhance your playing across a diverse range of musical genres.
SOPHISTICATED PIANO PLAYING EXPERIENCE
GRANDTOUCH™ KEYBOARD

GRANDTOUCH™ PEDALS

LEVERAGE ARTISTIC EXPRESSION

88-KEY LINEAR GRADED HAMMERS

KEY COUNTERWEIGHTS

YAMAHA CFX AND BÖSENDORFER IMPERIAL VOICES

VIRTUAL RESONANCE MODELING

GREAT PIANO SOUND, EVEN WHEN USING HEADPHONES

GRAND ACOUSTIC IMAGING

ACOUSTIC SYSTEM WITH A FEELING OF DEPTH

SPRUCE CONE SPEAKER
MORE BENEFITS
SMART PIANIST

With the Smart Pianist app as the perfect companion at your side, you can select and adjust a wide variety of functions, from sound and tuning adjustments to piano models and acoustic settings. Smart Pianist also analyses the songs in your mobile device's music library so you can play along to your favourite tunes.

FLOWKEY

The popular flowkey app is an exciting and intuitive way to learn how to play the piano or further advance your playing skills. It comes with an extensive selection of interactive songs, tutorials and courses. Select a song and start playing with immediate feedback for more playing and learning support.

PREMIUM SERVICE

Yamaha places the highest value on quality, reliability, and customer service. Enjoy more convenience and let our carefully selected partners deliver and set up your new Yamaha Clavinova digital piano.

5-YEAR GUARANTEE

More than a promise! Register your Clavinova premium digital piano within six months of the purchase date and receive a free five-year extended warranty.